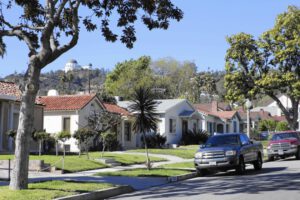 One of the prime important factors to attract potential buyers is a wonderful and very welcoming home exterior. The moment a homebuyer steps into your property, how it looks on the outside will set your client's impression—and first impressions matter the most.
Here are some ways you can take your home's exterior design to the next level.
Put big, bold house numbers. Depending on the font and color of your house number, it echoes the design of your home and creates an impression on how keen you are to the details which makes a great impact for homebuyer inspectors. Like for example, stainless steel sans serif fits a modern home design while aged copper is for a Prairie-style theme, and so on.
Make attractive landscaping. Add structure to your front lawn with low stone walls, concrete planters, or new brick paths, and plant beautiful flowers. A brightly colorful flower garden in your front yard will make a great impression to your guests. Here are some plants that are perfect for your front lawn: Boxwood, Nandina, Hydrangea, Azalea, Rose, Hosta, Daylily, Annuals, Deutzia, inkberry hollies, coleus, lantanas, and other annuals and perennials. Don't forget to dress up your mailbox as well with colorful plants.
Level up your front door. A repaint job will do the trick. You can watch YouTube videos for tutorials on how to do it correctly and not mess it up. Do not forget to also repaint your doorknob, hinges, and door knockers. Fresh and brand new looking door, gives your house an expensive feel. If you have a doorbell, make sure it is working. Since you are already on your repainting job, you might as well not miss the garage door and use the remaining paint to recondition it.
Give life to your porch. Put outdoor rockers and gliders on your porch, or maybe a tea table for two. Also, add clean, fluffy, and colorful throw pillows. Stick to the motif of your desired design theme. Put some accents or colors that are common from the architecture of the paths, the landscaping, to the porch and until you are inside the house. This gives a feeling that no design element is out of place. Everything should relate with each other.
Add a low, minimalist fence. Oh yes! Just like your dream house when you were a kid complete with white fence. Make that dream come true and install a low fence that is just minimalist and not overpowering. A fence gives a feeling of security and sense of detachment from the busy street. It is almost as if when you step on in a property with a fence, you are seemingly in a completely different world from the outside and it becomes your safe haven. Also, a low fence adds depth to your front yard making it look larger.
Repaint the exterior walls of your home. That is if the exterior walls of your house are in bad condition, you may want to do some repainting. However, this could take a lot of time and could be a very tiring job, so unless you have the right skills, right tools, and enough time, don't do it yourself. But if you are determined to do so and save money from paying a professional fee, you can always research the internet for references and watch tutorial videos to do the job decently.
Install outdoor lighting. People tend to take little consideration of outdoor lighting in their plans. Lights can greatly improve the curb appeal of your home. Installing some lightings in your porch, in your garden, or garage, not only beautify them and provide classy ambience or drama, but it can also deter intruders. A well-lighted house on the outside when viewed from the street would look and feel very warm and welcoming. This will definitely add value to your house.
Repair the roof and gutters. Faulty and damaged shingles and gutters are definitely an eyesore. In the long run, if you choose to disregard them, they may cost a lot when you finally want to fix them. So it's best that you do repair the moment you notice any damage on your roof.
These are things that you can certainly do by yourself. However, if you are not confident at all, it's better to hire a handyman before you mess it up and end up spending more fixing the damage. Handymen can do a lot of things and hiring one can save you a lot of money paying fees to different professionals working in your home exterior. Or, better yet sell your house to us. Maintaining a house can be very exhausting, if you want to just get rid of it completely, you have options. Selling to a "we buy homes Los Angeles" company is the best way to go. And Mrs. Property Solutions is your best bet if you ever need a company that can close fast and buy your house as-is!