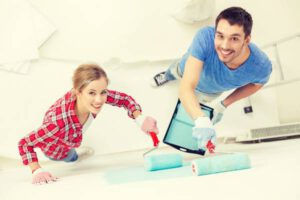 The process of selling a house is long, tiring, and expensive. You have to prepare your house well to attract interested potential buyers. Here are some ways you can do before selling your house:
Work with a real estate agent
Working with a real estate agent could actually save you more than trying to sell your house by yourself. Although you might think otherwise considering that you have to pay commission to the listing agent and the buyer's agent to get the house sold, but in general, working with an agent could save you more than $1000 compared to doing it DIY.
The reason behind this is simple. Most of the time homeowners tend to price their home too low or too high and then drop the price drastically during negotiations in the course of selling. They end up selling their home lower than what they originally planned for. Even lower than working would with an agent would've cost in total.
For example: If you try to sell your house and you think its value is $350,000, you would then put it out in the market for $350,000. But if the market analysis tells that your listing price is too high, you would then cut it down little by little until it gets sold. You might even end up getting it sold for $300,000 which is much lower than what you have expected.
But if you work with an agent, your house could likely be sold at $330,000 which is $20,000 lower than your perceived value of your home, but still higher than the price you can sell it for by yourself even with the commission and other expenses already deducted.
Improve your curb appeal
The way your house is viewed from the street is the first opportunity to make the best impressions. The exterior of your home should be inviting enough to attract the home viewers and make them want to go inside and see more.
You can make some landscaping, plant colorful flowers and upgrade your porch—add some fluffy and clean throw pillows in your outdoor chairs. Make some pathways, add a trash bin, repaint the front door, and make sure your doorbell is working. You can also add a low fence to give that exclusivity feel in your property.
If you are unsure what else to do, talk to your real estate agent to give you an idea how to improve your curb appeal.
Declutter, depersonalize, deep clean, and repair
Sort out your stuff. Box those that are not in use anymore and let go of sentimental things that which you can, and then do a garage sale, or sell them in local thrift shops, online sale platforms like eBay. The rest that you are unable to sell, you can donate to charities, or you can recycle and create DIY artworks.
Remove all personal stuff like bills and family pictures because they are distracting clients from projecting themselves living in your space. Secure them in a box and keep them out of sight. Your home should be like a blank canvas which makes the buyers easily imagine what to do with it. The lesser the things on display, the better.
Deep clean your home and get rid of all of that aged cobwebs on the corners. Dust the windows, the furniture, and all the surfaces. Make it a point that wherever the client may lay a finger one, its dust free.
Hire a handyman to do all the fixes needed because handymen are jack-of-all-trades and hiring one can save you a lot.
Replace the wall colors
Repaint the walls and choose neutral tones. If you have bold walls like striking red or playful orange, that might turn off potential buyers who are possibly not into those colors. Choosing neutral colors is the safe way to do it because nobody hates neutral colors. This way, buyers can easily imagine how they would want the walls to get decorated.
Do home staging and consider scent 
Reorganize the furniture and make a little decorating of your home. You can hang your DIY artworks from your recycled stuff. Add some flowers, vases, throw pillows, wall arts, and some succulents, clean towels in the toilet, and others that will attract the potential homebuyers more into buying your home.
Do not forget the scent of your home. Good smell, fragrant and clean, can make anyone happy. Make sure your throw pillows and others smell clean and you can also light scented candles during the home viewing. But make sure it is subtle and not overwhelming. There are a few more steps that you can do to sell your house fast Los Angeles. But always remember, don't overdo it. And if you don't really have the time and money to take on the task, know that you have another option. Sell it to Candid Property Solutions. They buy houses as-is and can close in days!